Automated vehicle route to go through Iowa City, Hills, Riverside, and Kalona
University of Iowa researchers with the National Advanced Driving Simulator (NADS) are busy preparing for an upcoming demonstration study about automated driving on rural roads—thanks to a $7 million U.S. Department of Transportation grant officially awarded to the UI this spring.
NADS is already an international leader in automated driving research and development, as they have been researching advanced vehicle technologies—primarily ones that help avoid crashes—for over 25 years. But this study has a special focus (two of them, in fact): 1) the unique challenges of rural roads, and 2) Showing the future benefits of automated vehicles to people with mobility issues.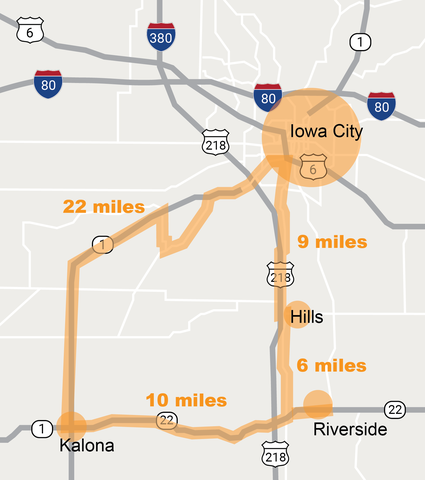 "As automated vehicles become more advanced, we need to do more testing on rural roads to address the unique challenges that we as Iowa drivers know well, such as sharp curves, gravel, weather, and farm equipment on the roads," says Dan McGehee, director of NADS. "There is a big difference between driving in Iowa than in Silicon Valley or states where there are 12 months of sun."
The project—called Automated Driving Systems (ADS) for Rural America—will use a custom vehicle equipped with scanning lasers known as LIDAR, computer vision systems, RADARs, and high definition maps. A specially trained driver will be driving the vehicle at all times, and the vehicle will follow a 47-mile route through parts of Iowa City, Hills, Riverside, and Kalona—experiencing different types of roads along the route.
Automated vehicles improving mobility and quality of life
The project will also examine how the technology may one day provide transportation options for people in rural areas. 
To do this, researchers will recruit individuals in 2021 from local communities to be passengers in the automated vehicle. Those recruited will be age 65 and older or have a disability that affects their ability to drive. Researchers will study the individuals' comfort levels and perceptions of the technology.
"Mobility means independence for a lot of these folks who cannot drive themselves, such as the elderly or those with certain disabilities," explains Omar Ahmad, deputy director of NADS and project manager of the ADS for Rural America project. "So in a few decades when fully automated vehicles become more common, this population could have a lot to gain from this technology."
Safety in automated driving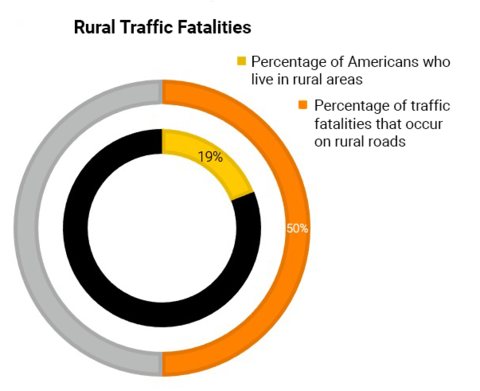 A safety driver will be behind the wheel at all times to monitor the automated features and drive the vehicle anytime those features are not in use. These drivers are specially trained members of the research team with years of experience using these technologies. A second research team member will be on board to assist with study subjects.
The drives will not start until 2021, and the research team continues to closely monitor the situation with COVID-19. Researchers will take all proper precautions to protect those involved, including shifting the timeline of the project if needed.
Project background
An added bonus: The work on the project is staying in the Midwest. The vehicle is being outfitted by Illinois-based company AutonomouStuff, and the high definition road mapping done by Wisconsin-based Mandli Communications. The vehicle is also being purchased as part of the Buy America Act.
The ADS project award was first announced by the USDOT in September 2019, and officially awarded by the Federal Transit Administration to the UI in April 2020. The USDOT had set aside $60 million in federal grant funding to test the safe integration of automated driving systems (ADS) on our nation's roadways. Out of 73 proposals received, the UI was one of eight institutions across the country selected for project awards. The UI is receiving $7,026,769 for their project that aims to connect rural, transportation-challenged populations using mobility-friendly ADS. The on-road demonstration will provide more data and information that can help identify challenges, opportunities, and insights relevant to safely operating automated vehicles on rural roads.
How to get involved
Future passengers: Although recruitment won't begin until next year (2021), those interested can sign up for the NADS subject registry at drivingstudies.com to be notified of this and future driving studies. Or follow us on Facebook or Twitter to find out when we are starting recruitment.
Read more on our How it will work page.
Media contact: Kristine Roggentien, head of communications, National Advanced Driving Simulator, at kristine-roggentien@uiowa.edu or 319-929-6332