The project will conduct eight increasingly complex phases of automation that each include ten drives of the full route. The route will be the same each time, but the drives will capture variability in time of day, traffic, and weather conditions.
The vehicle
A Ford shuttle bus is being outfitted at AutonomouStuff with custom technologies to allow the vehicle to perform at different levels of automation. The vehicle is wheelchair accessible (ADA compliant) and was purchased as part of the Buy America Act. The tech partners are also based in the Midwest: AutonomouStuff in Illinois for outfitting the vehicle with automated features, and Mandli Communications in Wisconsin for high-definition road mapping. 
Safety precautions
A safety driver will be behind the wheel at all times, monitoring the automation features and driving the vehicle anytime automations are not in use. Additional research team members will be on board to act as co-pilot and to assist with study participants.
COVID-19 impact: We are also taking all proper precautions to protect those involved from possible transmission of COVID-19. While the drives will likely not begin until summer 2021 (tentative date), we plan to implement protective measures to keep people as safe as possible. We will continue to monitor the COVID-19 situation and adapt as needed.
Where will drives occur?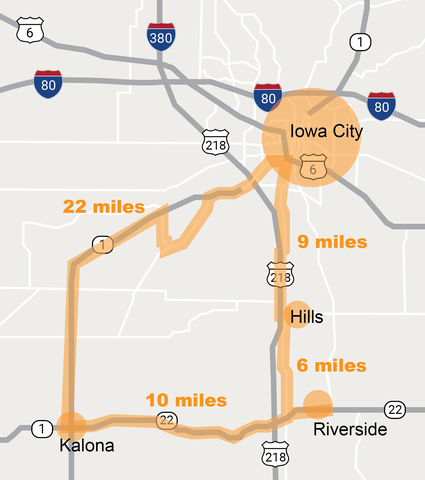 The route is a 47 mile loop, driven clockwise, with four stops:
Iowa City Marketplace (formerly Sycamore Mall)

Hills Community Center

Riverside Casino

Kalona Public Library
Road types include:
Other variables:
Will span all four seasons of the year

Variety of weather conditions

Different times of day

Construction areas
The route is being mapped in high-definition—much more accurate than a standard GPS. This high-definition map works in tandem with the vehicle's on-board sensors to accurately place the vehicle on the road: either between lane markings (when available) or to the appropriate spot on the road (when lane markings are not present). 
When is this happening?
This is a 2.5-year-long project:
The grant was officially awarded in April 2020.

First 6 to 9 months: planning and preparation

Drives and data collection will begin in 2021.