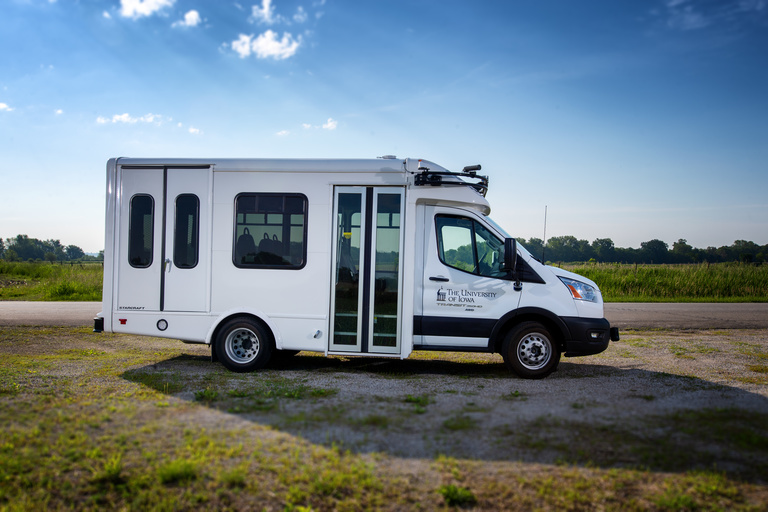 The National Advanced Driving Simulator (NADS) at the University of Iowa invites adults to participate in our on-road demonstration of a partially automated vehicle. This research aims to show how this technology can provide transportation options for people who may not be able to drive themselves, such as the elderly or those with mobility or visual impairments. The 47-mile route will go through parts of Iowa City, Hills, Riverside, and Kalona. The vehicle will be continuously monitored and driven by a trained NADS safety driver and co-driver, both following strict safety protocols. A NADS researcher will be present in the passenger area throughout the drive.
Who can be part of this study?
Adults ages 65 years and older or
Adults ages 25 and older that have an impairment that affects their mobility or
Adults ages 25 and older that have low vision impairment
Potential participants should also be
able to enter/exit the shuttle using the front steps with a handrail or via an ADA-compliant wheelchair lift
able to remain seated in the shuttle while wearing a mask for approximately 3 hours
able to interact with a tablet while the vehicle is in motion, and
willing to wear a device on your wrist to collect physiological data (e.g., heart rate)
Participants will arrive at one of our four pick-up locations: the Sycamore Mall/Iowa City Marketplace, the Hills Community Center, Riverside Casino, or the Kalona Public Library. You will complete questionnaires before, during, and after the drive. The demonstration drive will last approximately 1.5 to 2 hours. Although the shuttle will have predetermined stops, no one will be allowed to enter or exit the shuttle at the stops unless there is an emergency, or a request to quit participation.
Ready to learn more?
If you or someone you know may meet the above criteria and are interested in participating, visit the following link to complete an eligibility questionnaire: ADSforRuralAmerica_EligibilityQuestionnaire
Participants must meet other eligibility qualifications.
If you have any questions or concerns at any time, please email nads-recruit@uiowa.edu. Please reference "ADS for Rural America" when emailing.
Compensation is up to $80 for your time and effort.