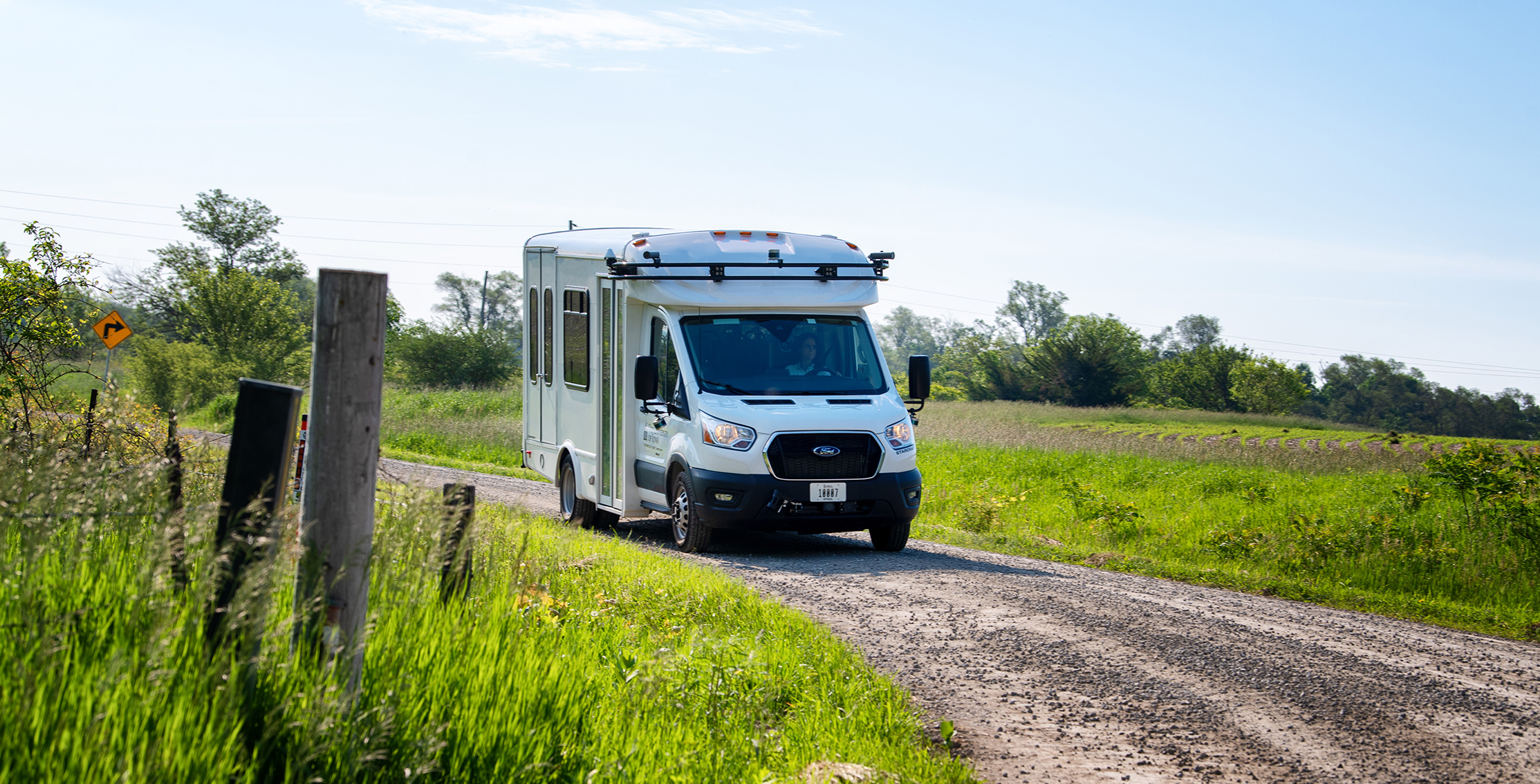 Automated Driving Systems (ADS) for Rural America
ADS for Rural America is a project that will test the use of a custom vehicle with advanced automated technologies on rural roadways—set to begin in fall 2021. Rural roads present unique challenges and are currently underrepresented in ADS research today. At the same time, the project will study ADS applications for aging, transportation-challenged rural populations aimed at improving their mobility and quality of life.
Goals
1. Improve safety on our nation's roadways with the integration of Automated Driving Systems (ADS). ADS technologies show promise of greater safety on our roadways, as 94% of all crashes are due to human factors or errors.
2. Represent rural roadways in AV research. Rural roads present unique challenges:
Sharp curves and grades
Limited sight distances
Gravel, unpaved roads without lane markings
Slow-moving vehicles on the road, such as farm equipment
Animals on the road
Extreme weather conditions
Due to the complexity of rural environments, most AV testing and mapping has been focused on urban, clearly‐marked roads. We're doing rural testing for rural solutions.
3. Broaden mobility: Show how automated vehicles can provide transportation options for those not able to drive, such as aging populations and those with disabilities. We aim to connect those people in rural areas to the services they need. Since public transportation is often scarce or non-existent in rural areas, mobility means independence and can significantly improve quality of life.
While 19% of Americans live in rural areas, nearly 50% of traffic fatalities occur on rural roads.

This $7 million project is funded by the U.S. Department of Transportation and is spearheaded by researchers at the National Advanced Driving Simulator at the University of Iowa.