Friday, February 18, 2022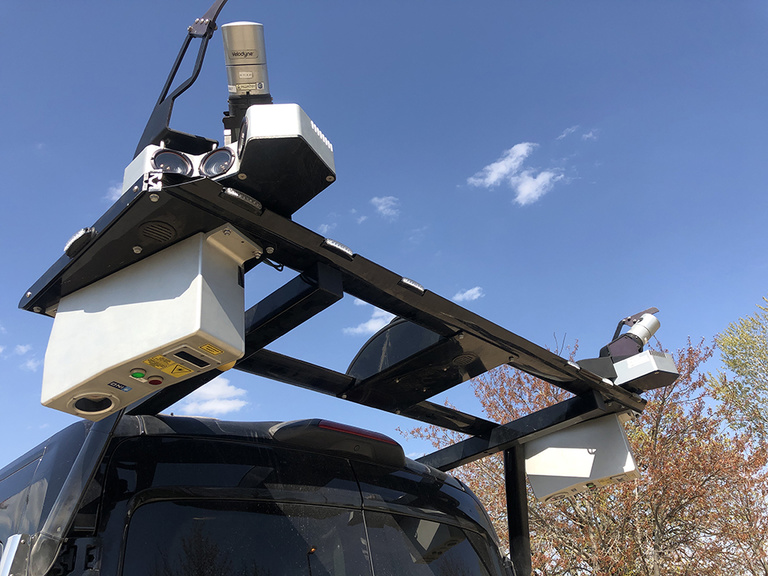 Mandli Communications visited the National Advanced Driving Simulator last summer to create HD map of our project route.
From Hawaii to Rhode Island, and all the way up to the North Pole, Mandli Communications has scanned roadways—nearly 100,000 miles a year. And now they've created a high-definition (HD) map of our 47-mile ADS for Rural America route through rural Iowa. This HD map is a 3D real-world view of the route, and it has been installed as part of the "brain" of our new Ford Transit automated shuttle bus—allowing the vehicle to identify where it is on the road within 10 centimeters.
To create an HD map, the Mandli team used a large van outfitted with nine cameras (three in the front and six in the rear), two Velodyne Lidar sensors (HDL 32s), pavement scanners (the two silver boxes on the back), and a GPS antenna (located in the middle top, between the Lidar sensors). The Lidar sensors create a real-world 3D view of the scanned area, and the pavement scanners can detail cracks in the pavement as small as 5 mm wide.
The process for creating an HD map involves: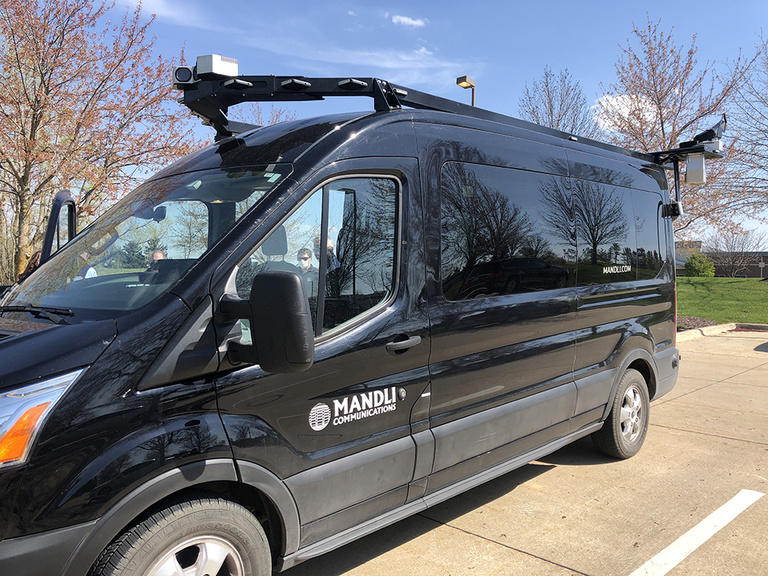 Two Mandli staff members drive the vehicle along the route to gather data and digitize the route using their on-board equipment. They gather information on lane striping, intersections, shoulders, surface conditions, road features, and more. The staff member in the passenger seat is constantly monitoring the camera feed to ensure the appropriate areas are captured.
Next comes the post-processing of the GPS and Lidar data to create a 3D terrain of the mapped area. This becomes the foundation of the HD map.
Then they take that 3D terrain model and overlay the roads, buildings, and other mapped features onto that terrain using Lidar data.
They clean up data and refine areas of the map, such as intersections, parking areas, and other driveable paths.
They go through multiple rounds of testing to ensure the HD map represents reality, accurately representing roadway features and the allowed vehicle movements.
Lastly, the HD map is installed into the vehicle's computer system as part of its "brain."
The HD map on board an automated vehicle is just one of the many types of technology that allow it to sense the world around it—and will eventually help people get where they need to go.
Based out of Madison, Wisconsin, Mandli's bread and butter is pavement mapping for state DOTs across the country, and they also specialize in creating HD maps for automated vehicles, as well as other types imaging and 3D profiling of roads and pavement, positional data, and mapping roadway lane assets. Mandli has eight vehicles similar to the one used for our project, plus other systems for mapping, such as one that can be worn like a backpack for extreme terrain. Learn more about their work at mandli.com.